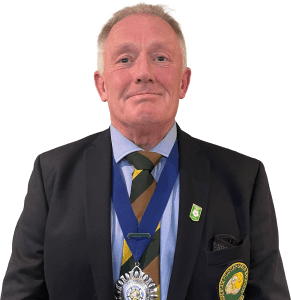 On behalf of myself and the Executive Committee of the Halifax Huddersfield and District Union of Golf Clubs,  I would like to welcome you to the 2024 season of Inter Club and Inter District competitive golf.
It is a tremendous accolade for my club Dewsbury District to provide a President and it is my honour and privilege to serve as your President.
I would like to congratulate Glynn Mellor from Elland GC for his excellent year as the 2022 President and thank him for the assistance he has provided me.
I would also like to offer my congratulations to Anthony Kendall from Longley Park GC who is now the Union President Elect.
The Halifax Huddersfield and District Union of Golf Clubs was formed on March 12th, 1947. In 1947 the programme of inter club golf consisted of three competitions, together with a small number of inter district friendlies.
The Union has now increased from the original 18 clubs to 23 clubs. There are two leagues, Scratch and Handicap, each with 4 divisions, one Junior and a Development League.
The Union is responsible for promoting 10 different competitions for scratch, handicap, and junior golf, together with a further 6 knockout match play tournaments.There are 8 Yorkshire District Unions.
The HHDUGC has Senior and junior representative teams which compete in an Inter District league and team competitions against the other  Yorkshire District Unions. These  competitions strive to maintain the original 1947 objectives of promoting competitive golf and friendship between the member clubs and Union Districts.
I would like to wholeheartedly  thank  the member clubs who so generously allow us to use their facilities, your ongoing support is immeasurable.
I would also like to thank the players for their dedication, assistance, and the time they give to the Union.
On behalf of the Executive Committee, I would like to thank our sponsors for their continued generosity and without whose support many of the activities and achievements of the Union would not be possible.
The Union Executive Committee is comprised of members from various clubs who dedicate a lot of their time ensuring the Union operates in a professional manner.
I would like to personally thank them for their endeavours.
Finally, I wish all players within the Union an enjoyable and successful year, I look forward to watching you play throughout the year.
Iain Pearson
President HHDUGCAnthiny Kendall