The Halifax, Huddersfield & District Union of Golf Clubs' junior team has enjoyed success in the last two seasons. In 2018 the team won the Yorkshire Inter-District Union (YIDU) Junior League for the first time in the Union's history.
In 2019 they were runners-up in the League and won the Junior Team Championship for the first time in 35 years. While they were doing that our senior team won their League for the first time in 25 years and were third in the Senior Team Championship.
There is a clear opportunity for boys to progress to the senior team as evidenced by the number who have played for the senior team in the last two seasons.
Within our Union, we pride ourselves on our Coaching Pathway developed in 2017 which allows our boys the best opportunities to progress. Our aim is to identify those with the potential and dedication to play in the Union teams and have the opportunity to progress into the Yorkshire County coaching squads.
There are various routes into our Boys' Coaching Pathway as follows:
Participation in our Junior and Academy Leagues.
Participation in Union and County Boys' events.
Frank Greaves is our Teams and Coaching Manager and is available for help, advice, and information on 07771 637358 or email coaching@hhdugc.org.uk
 We cannot over emphasise how important it is for clubs, be it the Professionals, Parents, Junior Organisers, and Club Officials, to create and maintain a dialogue.
 In 2021 our focus is to continue finding, developing, and nurturing the talent within our clubs and provide the best opportunity of competing at the top of the YIDU Junior and Senior championships.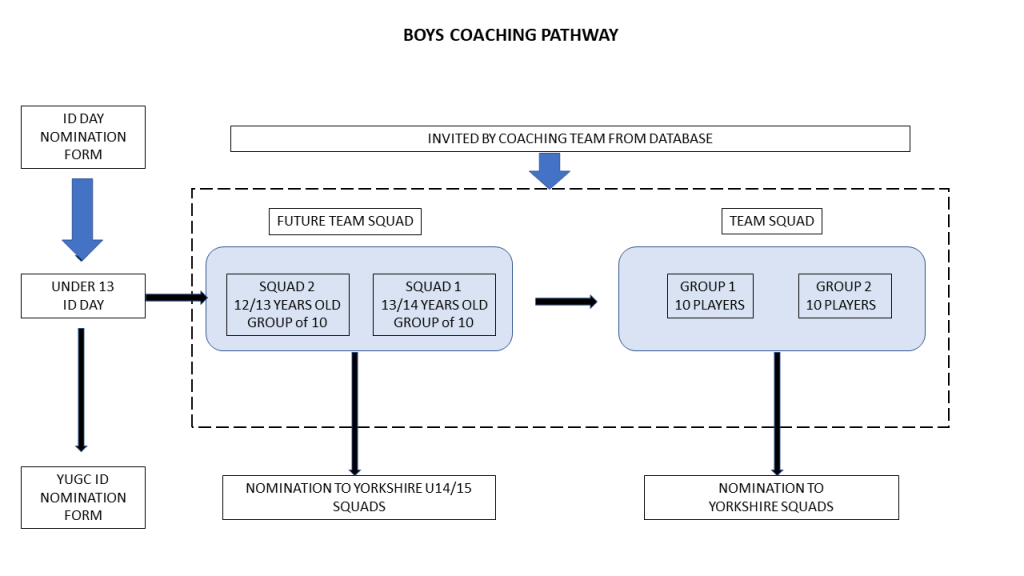 Under 13's Identification Day
Each year the HHDUGC holds an Identification Day at Bradley Park Golf Club for those boys who are 12 years or under on the 1st January, who are showing promise and the potential to become good players and represent the Union Junior and Senior teams. The date is set prior to the date for applications to the YUGC (Yorkshire Union of Golf Clubs) Identification Day allowing nominations to be made for that event.
On the day those selected will be placed into groups, each under the direction of one of the Union's coaches all of whom are qualified, knowledgeable, experienced and enthusiastic in developing juniors.
They will assess the boys various skills and offer advice where appropriate. A particular aspect they will be keen to embed is making practice more fun and competitive.
There are 12 places available. If we are oversubscribed, places will be allocated based on age and handicap index, the criteria for nominations are:
12 years 32 handicap index, 11 years 42 handicap index and 10 years 50 handicap index
Where age permits, any unsuccessful applicants may re-apply the following year.
The session will be constructive, interesting and hopefully fun.
The boys will hit lots of golf balls, receive good coaching and tips to help them improve and enjoy their golf and practice.
The session will include golf skills with assessments as follows:
Long game accuracy and distance
Chipping and pitching
Putting
The coaching sessions will take place on FRIDAY 4th JUNE 2021 at Bradley Park Golf Club, Bradley Road, Huddersfield, HD2 1PZ.
Registration is from 8.45 am and coaching will begin at 9.00 am. There will be a break during the session and the boys should bring refreshments. The day will be completed around 1.30 pm.
Parents/guardians are not required to remain throughout the coaching sessions but there will time to discuss the Union's coaching programme and opportunities open to the boys.
Following the session feedback will be provided.
PLEASE MAKE YOUR NOMINATIONS FOR THIS YEAR AS SOON AS POSSIBLE AND AT THE LATEST BY FRIDAY 21st May 2021
Boys Coaching Nomination Process
The Halifax, Huddersfield and District Union of Golf Clubs has introduced a process for Professionals, Parents, Junior Organisers and Club Officials to nominate any boy they feel has the ability, potential and capability to be a Union junior team player now or in the future.
The information provided will allow the Teams and Coaching Manager and coaches to assess suitability for inclusion in the Coaching Pathway? Consideration will be given at any time but there are no guarantees the nominated boy will be accepted immediately.
It is important that the Union is kept informed of any promising boys so their progress can be monitored, they could be invited or advised to play in relevant events and be informed of the opportunities that are available at Union or County level.
Competition for places is competitive, standards are high and improving but don't let that you put you off nominating an individual. The boys need to be committed to working hard, demonstrate effort and be dedicated to being the best they can be when compared to their peers.
If you wish to nominate a boy for consideration please complete the nomination form in full and return by e-mail to coaching@hhdugc.org.uk or by post to Frank Greaves, Teams and Coaching Manager, 2 Pether Hill, Stainland, Halifax, HX4 9GA.
If you wish to discuss any coaching matters before nominating an individual then please contact Frank Greaves on 07771 637358.